A great look for Strictly Halloween Special
Saturday, 27 October 2012 | Admin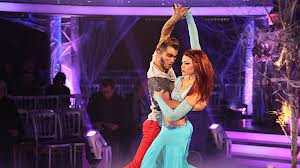 The Strictly Halloween special was a "fangtastic" platform to show off some brilliant spooky make-up and jewellery!
Nicky and Karen twirled around to "Wierd Science". Denise and James took on the role of Circus Freaks and Victoria and Brendan tangoed down the aisle in their "white wedding"
As is expected of the popular BBC show the costumes and make-up are as spectacular,sometimes more so, than the dancing. For this Halloween special we have been treated to spiderlike eyelashes, vivid hair colour and 'statement' lips
If you are dressing up for halloween this year you should take a look at the range of eyelashes and lips available here at Unistylez - and with 3 for 2 on eyelashes and lip tatoos you can get the look for less!