The New Amazing Stock - Oddsocks!
Friday, 18 March 2016 | Admin
Dear %informal
The New Amazing Stock - Oddsocks!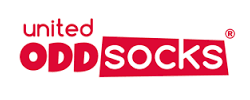 The Brand New Stock United Oddsocks have Released is Truly Spectacular and Unique!
United Oddsocks vision is simple. They don't want to change the world, they just want everyone to have the opportunity to do something different every day.
So how's it worked out so far?
Thier journey has been a lot of hard work but also a lot of fun, designing, developing and making top notch stuff that's 'All Together Different'– just like cheese and pickle, perfect together but very different. A bit like our fantastic team here at United Oddsocks.
More importantly, they are fabulous funky socks to mix and mismatch. Kick off your shoes to reveal your funky feet! These colourful socks are a little boom time for your feet!
Here are some of the Oddsocks pictured below:
View the entire range online
FREE DELIVERY FOR UK ORDERS OVER £25.00
| | |
| --- | --- |
| Oddsocks - Hop, Skip & Funk | Oddsocks - Pandamonium |
| | |
| --- | --- |
| | Oddsocks - Suitable |
Shop online now at Unistylez and take advantage of these amazing gifts.