Trend Of The Moment: Denim Hair!
Friday, 5 August 2016 | Admin

Trend Of The Moment: Denim Hair!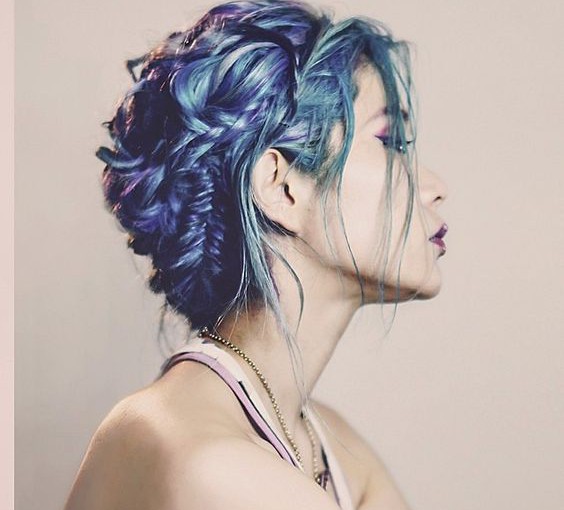 At Manic Panic UK they are OBSESSED with coloured hair and they're always looking for the latest trends to set their 'dos apart from the crowd. There are tons of different hair colours trending this year but Denim Hair is one of their favourites. why you ask? Here are five reasons why they LOVE denim hair!
1. It's unique! :
This hair trend is one of few that offers a completely unique look to the wearer. Due to the nature of the mixed colour palette, it's likely that each individual's denim dye will turn out differently! Not only that but you will probably find each time you try this style, your own dye job will give you different results; which we find pretty exciting, after all, who wants samey hair?!

2. There are so many colour options to try:
Have you ever looked at your favourite pair of jeans any deeper than how they make your butt look? Chances are, if you have, you'll have noticed that they are very rarely just blue or just black, the very nature of denim incorporates a whole host of multi-tonal colours to give it that awesome mottled feel. The varying denim styles like washed out denim, stonewashed denim, or rich indigo denim means that you can hope on board the Denim Hair train with any of the these colour palettes:
.Rich Blue Denim – Navy Blue, Indigo & Purple Dyes
.Stonewash Denim – Pale Blue, Blue, Green, Platinum Dyes & Pastel-izer
.Grey or Black Denim – Black, Silver, Grey, Platinum Dyes & Bleach
.Vintage Denim – Pale Blue, Navy Blue, Green & Silver Dyes

3. You don't have to go Denim Dye all over:
One of the best things about Denim Hair is that you can include it in your do in lots of ways, giving you the freedom not to have to commit to an all-over look! If you'd like to try this jeans hair style in a different way why not give one of these a go..

4. Styling showcases ALL those colours:
The greatest thing about Denim Hair has got to be the variety of different colours in one style (we love as many colours as possible in our hair!) and this looks awesome when you style your hair in so many ways like curling, ponytails, braiding or simply straight and glossy. So whatever your preferred hairstyle, you can flash that denim do!
5. It's easy to do at home:
Because Denim Dye is multi-tonal by nature and can be a mash up of so many different colours, there's no need to be scientific about it- giving you lots of leeway for home-dye-hiccups!
You can mix as many or as few shades and you can choose whether to make the colour sections thin or chunky, loads or just a couple, roots/ends or all over, the possibilities are so varied that no matter what technique or colours you go for, chances are you are going to end up with a deliciously denim
Get Your Hands On Some Manic Panic Hair Dye Today On Our Website at www.unistylez.co.uk